Bestuur
Het dagelijkse reilen en zeilen van de club wordt geregeld door het algemeen bestuur, en ondersteund door betrokken leden. Zo hebben we onze wapenmeester, wedstrijdsecretaris, activiteitencommissie en adviescommissie. Samen is ons doel om iedereen een gezellige, leerzame plek te geven om te leren schermen.

Het bestuur 2018-2019, met van links naar rechts secretaris Kristin, voorzitter Nienke en penningmeester Mark. Foto door Nils van Rooijen.
Voorzitter: Nienke Flipsen
Ik heb dit seizoen het geluk om voorzitter te mogen zijn van Don Quichote. Ik ben nogal Lord of the Rings-fan en wilde ook wel eens ervaren hoe dat zwaardvechten nou werkelijk ging. Little did I know… Ik volgde in mei 2017 een beginnerscursus bij Don Quichote en ben in september 2017 echt begonnen met schermen – inmiddels ben ik hier niet meer weg te slaan. Ik had meteen door dat sabel mijn voorkeurswapen was, maar misschien was ik ook een beetje bevooroordeeld door Danny, die me een sabel aangaf en zei 'dit is het leukste wapen'. Sindsdien maak ik ook meteen deel uit van de activiteitencommissie. Mijn doel is vooral om lol te hebben tijdens het schermen, maar ik ben ook een tikje competitief: dat ik binnen een jaar na mijn A-cursus al een NK mocht schermen was echt waanzinnig en smaakt naar meer. En dat voor iemand die altijd een hekel had aan sport.
Penningmeester: Mark Wijkhuizen
In het academische jaar 17-18 wilde ik weer beginnen met sporten, toen ben ik naar de cursussen op het Radboud Sporcentrum gaan kijken. Van alle sporten die ze aanboden heb ik gekozen voor schermen, omdat het een sport is die je niet vaak kan proberen en omdat het er gaaf uit zag op video's van de Olympische spelen. Toen ik begon met schermen voelde ik mij een speldenkussen, maar schermen is gelukkig, in tegenstelling wat de meesten denken, een sport die je vrij snel oppakt. Wat ik het leukst vind aan schermen bij Don Quichote is dat je op alle niveaus's kunt schermen. Daarnaast kun je ook persoonlijke trainingen krijgen als je daar behoefte aan hebt, maar het leukste is misschien nog wel om na een uitputtende training met de club een biertje te drinken in het sportcafé.
Secretaris: Krissi Kalesse
Hey allemaal! Ik ben Krissi, en dit academisch jaar ben ik secretaris van Don Quichote. Toen ik Olympische schermers op TV zag, dacht ik 'dat moet ik ook een keer doen'. Jaren later kon ik eindelijk een A cursus op het Radboud sportcentrum volgen. Blijkbaar vind ik het niet alleen leuk om andere schermers te zien maar ook om het zelf te doen. Een jaar later ben ik er nog steeds bij en heb ik de floret uitgekozen. Als ik niet in het sportcentrum ben, kun je me zeker in het Spinozagebouw vinden, met mijn neus in de boeken en een geheim verlangen naar pepperoni chips.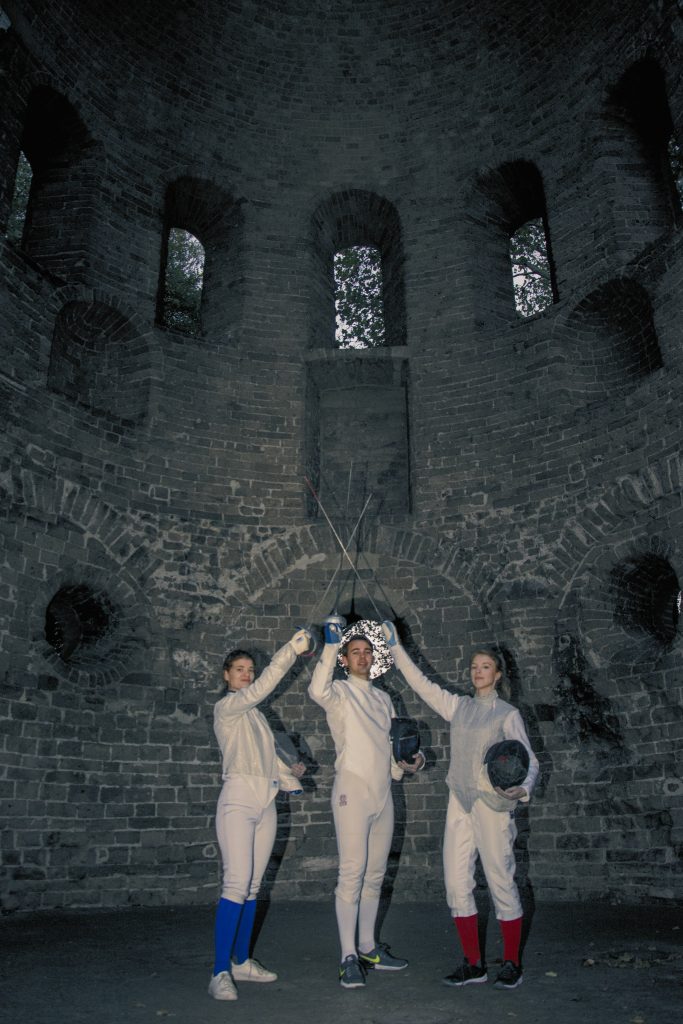 Alledrie de wapens in het bestuur. Foto door Nils van Rooijen.